Also in Germany I had a chance to visit Porsche Museum (Stuttgart)! Let's begin our journey through that magnificent history!

Reflection of Porsche 911 turbo at the entrance

Radnabe Lohner Porsche Elektromobil (Nachbau)
Model Year: 1900
Engine: Radnaben-Elektromotor
Displacement: -
Power Output: 2,5 PS (1,8 kW)
Top Speed: 50 km/h
History:
At the age of 24, Ferdinand Porsche creates a sensation at the 1900 Paris World Fair. The vehicle on display was built under contract with the Lohner Imperial and Royal Coach Factory in Vienna and was equipped with his electric wheel hub motor. Porsche's talents in electrical engineering combined with his affinity for the automobile provide economically viable solutions just when engines powered by electricity, gas, or gasoline are being developed. In the same year, he designs the first production vehicle with a hybrid gasoline-electric propulsion system – the Lohner-Porsche "Mixte"- a predecessor of today's hybrid cars with gasoline-electric propulsion. Soon after, he invents the all-wheel drive and the four-wheel brake.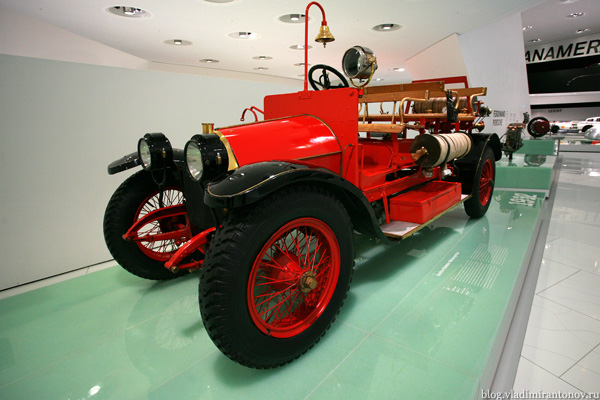 Austro-Daimler Motorspritze
Model Year: 1912
Engine: 4-Zyl. Reihe
Displacement: 2010 ccm
Power Output: 20 PS (15 kW)
Top Speed: 55 km/h
History:
Ferdinand Porsche develops an early interest in fire trucks. They are fast and very practical – the kind of solutions he enjoys working on. After he joins Austro-Daimler as chief engineer, his development activities focus on such community-service vehicles. His first customer is the company's own fire crew, for whom he develops a special vehicle: for the first time, personnel transport, a water pumper, and a hose are combined in a motor vehicle. After a 20-year tour of duty in the plant, this fire engine reliably serves a community in Austria's Burgenland for another 36 years. Even during this early stage of his career, Ferdinand Porsche makes a name for himself through his constant search for better solutions. One such contribution is the design of an expensive, high-capacity luxury sedan, the "ADM Phaeton", which Porsche sees through to its market introduction shortly before his departure from Austro-Daimler in 1923.

Austro-Daimler ADS R "Sascha"
Model Year: 1922
Engine: 4-Zyl. Reihe
Displacement: 1089 ccm
Power Output: 45 PS (33 kW)
Top Speed: 144 km/h
History:
Though designed for Austro-Daimler, the "Sascha" in effect launches Porsche's great motorsport tradition at the Targa Florio road race in Sicily.
In 1922, this compact high-performance car, originally developed as the precursor of a production four-seater, places first and second on the first try in its class. Key factors in this success are the nimble handling and effective power transfer of this lightweight car, which tips the scale at a mere 598 kilograms. Named after the financial sponsor of the project, industrialist Count Alexander "Sascha" Kolowrat, this car brings a total of 43 racing victories. Ferdinand Porsche also is a racing enthusiast, as this sport enables him to test the viability of his designs under extreme conditions. In the "Sascha" he establishes the fundamental principle of optimizing the power-to-weight ratio, which becomes a key attribute of all Porsche sports cars.

Mercedes 2-Liter-Rennwagen "Monza"
Model Year: 1924
Engine: 8-Zyl. Reihe
Displacement: 1996 ccm
Power Output: 170 PS (125 kW)
Top Speed: 180 km/h
History:
Ferdinand Porsche moves to Stuttgart when he joins Daimler-Motoren-Gesellschaft (DMG) in 1923. His first design as chief design engineer is a 2-liter compressor racing car. Porsche can give his predilection for motorsports free rein in building a visually imposing racer. He looks for new approaches and materials, such as having the cylinder heads cast out of bronze to improve heat dissipation. The vehicles are ready for the Grand Prix of Italy in Monza, but are still untested. The race is postponed by six weeks, but despite a reconversion to steel cylinders the Mercedes still has technical problems. After a tragic accident, all cars are withdrawn from the race. The "Monza" is a success, however, in sprint and hill-climb races.

Volkswagen "Käfer"
Model Year: 1950
Engine: 4-Zyl. Boxer
Displacement: 1131 ccm
Power Output: 25 PS (18 kW)
Top Speed: 105 km/h
History:
When Ferdinand Porsche presents his "Plan Concerning the Construction of a German People's Car" in January 1934, this "Volkswagen" concept benefits from his design experience in the development of seven prior compact car models. In his own engineering office located in Stuttgart, Porsche and his colleagues envision the People's Car as having an air-cooled rear engine, a torsion bar suspension with longitudinal control arm, and an outer structure composed of a body shell and a base plate. The streamlined design accommodating four occupants gives rise to the now infamous Beetle silhouette. Ferdinand Porsche is already contemplating production, and a trip to the United States enables him to assess the most advanced production methods for implementation. After World War II, the VW success story really gains momentum. By 1950, some 100,000 vehicles of the type displayed here have already been sold. By 2003, total unit sales reach 21.5 million.

Porsche Typ 360 Cisitalia
Model Year: 1947
Engine: 12-Zyl. Kompressor
Displacement: 1493 ccm
Power Output: 385 PS (283 kW)
Top Speed: 300 km/h
History:
In 1946, Italian enterepreneur and racing enthuasiast Piero Dusio engages the services of Porsches Engineering for his new Cisitalia brand. This single-seater not only dazzles with its gleaming light-alloy body, but is technically far ahead of its time in many respects. Power from the 1.5-liter, supercharged twelve-cylinder engine is transmitted via driver-engaged four-wheel drive. Despite the difficult and often improvised conditions of the post-war era in the small town of Gmund, deep in the Austrian Alps, the car is completed, but it never makes it beyond test stage due to financial problems. In addition to the design of the Type 360 racing car, the contract package with Dusio includes a two-seater sports car, a compact tractor, and a water turbine.

Porsche 356 "Nr.1" Roadster
Model Year: 1948
Engine: 4-Zyl. Boxer
Displacement: 1131 ccm
Power Output: 35 PS (26 kW)
Top Speed: 135 km/h
History:
There can be only Number One: spring of 1948 marks the construction of the first sports car bearing the name Porsche. In this sporty version of the Volkswagen, Ferry Porsche makes his idea of a sportscar come true. The Porsche Type 356 "No. 1" is ready to roll on June 8, and the Carinthian provincial government issues an individual permit for its use in test-drives on public roads. This mid-engine sports car is equipped with a VW engine boosted to 35 hp. It weighs only 585 kilograms and achieves a top speed of 135 km/h. In July 1948, "No.1" proves its fitness as a sports car at the Innsbruck City Race.

to be continued soon!